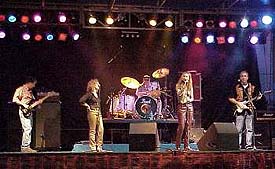 Performing at college campuses throughout the U.S. for the last six years as Gilligan Loves MaryAnn, Walter and Aimee Fletcher were voted Best Band nationally by APCA (Association for the Promotion of Campus Activities). Their most recent endeavor has turned them towards the studio, under the new name STERLING FLETCHER.
Their music has been described as a "Roots Rock Americana". But whatever one calls it, undeniably the most endearing quality of their sound is Aimee Fletcher's innocent voice. A true Jewel of the South, she sings with a transparent honesty that draws listeners into their songs.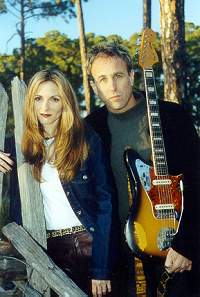 Having heard one of their demos, Anthony Crawford felt compelled to produce Sterling Fletcher. Anthony's previous credits include guitarist for Neil Young, Steve Winwood, and Dwight Yoakam, and he has penned songs cut by Lorrie Morgan, Sawyer Brown, and Kenny Rogers. Under his focused direction, the sound of Sterling Fletcher is recognizably defined.
This sound, obviously influenced by the more recent musical genres of Retro Country, Surf and Rolling Stones-like Rock and Roll has also been affected by Walter's musical heritage of singing preachers, pickers, and fiddlers of old. His "Uncle Am" Stuart, who championed numerous Fiddler's Conventions and learned most of his tunes during the Civil War era, hooked up with the group that would eventually lend it's name to a music genre itself, the Hill Billies Band. With the musical torch passed to them, Walt and Aimee are keeping the fire alive with STERLING FLETCHER.
"We really love performing these songs we've written," quotes Aimee, "and hope they are a blessing to all who hear them."